PDF Annotator®
Annotate, Edit and Comment PDF Files
NEW! PDF Annotator 4 has just been released! See what's new...

| | |
| --- | --- |
| | Add notes & annotations to any PDF document - comments, corrections, signatures, highlighting, even designs and drawings. |

| | |
| --- | --- |
| | Save annotations in the original file. Share them with coworkers, email them to partners or back to the authors - with no special software needed to view the marked up document. |

| | |
| --- | --- |
| | Type comments on top of PDF content, paste in images, use a stylus or drawing tablet if you have them. |
Winner at Microsoft Tablet PC Contest "Does Your Application Think in Ink?" sponsored by HP and PC Magazine! Read more...
| | |
| --- | --- |
| | Restore to the original document at any time. Remove or hide all markup with just one click. |
| | |
| --- | --- |
| | Insert blank pages for more space. Combine documents, copy, re-order or remove pages. |
Who needs PDF Annotator? - You do, if you want to:
| | |
| --- | --- |
| | Make a short comment on a long document |
| | |
| --- | --- |
| | Fill in or sign a form or agreement, and return it by email |
| | |
| --- | --- |
| | Proofread, review and correct a document right on your screen |
| | |
| --- | --- |
| | Make notes and drawings right on the pages |
| | |
| --- | --- |
| | Illustrate your ideas and suggestions |
| | |
| --- | --- |
| | Correct student papers right on your PC, laptop or Tablet PC |
"I have been very pleased with PDF Annotator. I thought it was a bit expensive at $50, but it has already paid for itself in saved color printer charges for 3 manuscripts that I have marked up and emailed to authors."
Pete Riley
Senior Scientist
San Diego, CA
Save time, paper and hassle with PDF Annotator!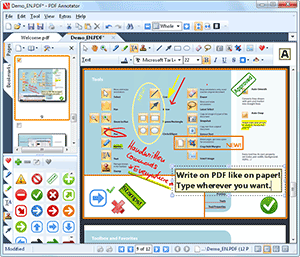 PDF Annotator lets the user open any PDF file and add annotations, using the mouse or a Tablet PC pen, directly on the PDF file's pages. The annotated documents can then be saved directly back to PDF format. In this way, anyone can read or print the annotated PDF documents. Annotated documents can also be easily attached to emails.

Previously, annotating, commenting or proofreading a document received for review in PDF file format was possible only by using multiple software products in a row--or only by printing the document and adding comments manually. With PDF Annotator, annotations can also be added in a natural way--using a pen--but everything remains in digital format. PDF Annotator allows commenting of PDF files in a single step.

"It's a great program. I've been recommending it to many of my colleagues. I use Adobe Acrobat 7 Professional, and I'm sure it has ways of accomplishing many of the same functions, but your program is very simple to learn and to use (unlike Acrobat 7)."
Joan Prout
New York
The user no longer needs to print a PDF document to annotate it. A PDF file received for review can be opened in PDF Annotator, commented on the PC with the mouse or on the Tablet PC using the pen, then saved back to a PDF file in a single step. This saves both resources and time. With the Tablet PC, a PDF document is treated just like a normal printed document. The user just writes or draws his ideas and thoughts on the existing document.

"I just wanted to say this product is spectacular. It changes a tablet from a very cool, useful product to a must have device. In academia I read over one hundred PDF files a year and give all my presentations as projected PDF files. PDF Annotator completely changes the experience of reviewing papers and responding to audience comments in presentations. Great stuff. All prior solutions for marking PDF files were woefully inadequate."
Sean Gailmard
Assistant Professor, UC Berkeley
Berkeley, CA
PDF Annotator also lets you insert blank pages to gain more space for your comments. It can be used to fill in forms, and you can even use it for note-taking by creating new blank PDF documents.

PDF Annotator supports Windows 8, Windows 7, Windows Vista, Windows XP and Windows 2000. PDF Annotator runs on desktop computers, notebooks, Tablet PCs and supports external graphics tablets.
PDF Annotator News