AB-Clock™
Clock. Calendar. System Monitor. Alarms. More.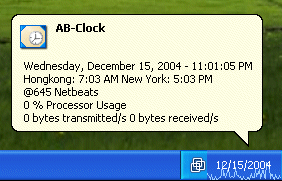 AB-Clock™ is the indispensable tool for your desktop. At last the clock in your Windows taskbar shows the current date.
Additionally, with AB-Clock™ you keep ahead because of the integrated system and download monitor.
Calendar, alarms, world time clock and much more let AB-Clock™ become an efficient helper in the everyday life with the PC.


With its unique technology, AB-Clock™ replaces the standard clock in the Windows taskbar. The application is easy to install and to use. It is no problem to customize it to your own ideas.
AB-Clock requires Windows 95/98/Me, 2000 or XP.
Newer versions of Windows are unfortunately not supported.