DeuPAD
PAD Tools for Software Vendors and Editorial Offices
Note: DeuPAD refers to tools and services that are currently only provided in German. All menu items on the left will send you to German resources.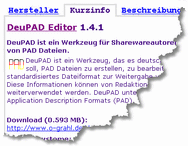 The PAD (Portable Application Description) format is an international standard for desciption of shareware and freeware products.
The PAD standard specifies, which information should be help at which place to completely describe a software product. The information will be combined in an XML file. This file will then accompany the product and will also be published at a fixed address on the internet. This way, product information can be read without downloading and installing the product.
For the work with PAD files, we offer some free tools. The most important tool is the DeuPAD Editor to create, edit and view PAD files. For instant display of PAD files on the internet, we offer the PAD Factsheets.
With numerous FAQs, workshops and links on PAD and PAD integration to download archives, we offer more valuable - and free - information.